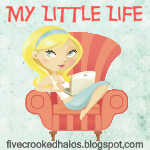 1.
What's your "comfort food"?


I would have to say, it really depends, a big bowl of strawberries and fresh whipped cream, a good milk shake, cookies and milk, chocolate, chocolate milk, blueberry pancakes, hmmm are you noticing the same thing that I am? I think I take way to much comfort in food. :)

2.
Do you send Thank You's (handwritten or email)?
I love to and I am really great at writing thank you notes. Getting them in the mail is a whole other story!


3.
If you had to be trapped in a TV show for a month, which show would you choose?
Oh boy all that I can think of is PBS shows, let me think.... Well honestly WORD WORLD would be pretty neat :)


4.
What is your favorite online recipe site?


I don't have one. I rarely use the internet for my cooking. I have some awesome family recipes that I love and a bunch of cookbooks from my Gramma I keep finding new treasures in.


5. If you had to choose: "Friends" or "Seinfeld"?

Friends because I just like that one better. Their apartments are cooler looking too ;)
So since this is my first 5 question Friday....how did I do?