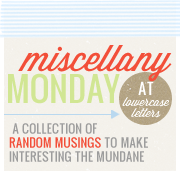 1. Today is my first ever link up with Carisa Graham and her Miscellany Monday link up. I have been reading Finding Joy's for ages now and I finally writting my own.
2. I have been feeling an extreme desire to go through every single thing in my house, and I mean everything. I want organization and space. It's driving my bonkers. I'm officially motivated enough to really get down to business!
3. We had 60 degree weather and sunshine on Friday! It was beyond wonderful. Saturday it was 20 degrees, windy and snowing. It was sad, BUT we did get to spend an entire day outside playing and soaking up as much sun as possible! It was lovely.
4. I am working on a very special post for later this week! I am very excited. :)
5. After nearly 2 weeks of having family around, we are trying to get back into our regular routine. Wes cried yesterday that he missed his "yaya" (my mom) and had to call to talk to her and everyone else in the house.
6. Wes insists on being called different names according to whatever he is imagining he is at that moment. Lately he has been a beaver, actually chewing on wooden furniture, a worm, a soldier, Captain Hook, and a fixer just to name a few. His imagination is extraordinary!
7. I FINALLY got my eye brows waxed! So exciting!!
8. I learned the cold way that wearing crocs in the winter is really not the brightest of ideas.